Meet the Wealthiest Man in Africa – A Brief Study of the Benefit of Financial Strongmen in the Developing World
Among Africa's 54 countries and the developing world in general there is the commonality of a high growth rate, due to a high demand of infrastructural projects. This opens the door for companies to introduce themselves across Africa and profit as they meet demand with supply. However despite the fall of colonial empires, many corporate services are still managed by foreign companies. Call it paternalism or quick solution to larger problem, low income countries repeatedly turn to western or Chinese companies for their various services.
Nigeria in particular is a country on the rise. Expected to be a global power by 2040, it still faces severe hurdles. It was once known for having a series of dictators and iron willed politicians. It has since become a democratic state with free elections, however instead of political strongmen we now see financial strongmen who have become almost symbolic figures leading to the country's rise to power. Much like the Rockefellers (oil industry) or the Carnegies (steel industry) of the United States in the early 20th century, and like the American robber barons, there is sizeable amount of cronyism and nepotism at play.
Political Cartoon Depicting Andrew Carnegie's monopoly as a "Trustworthy Beast"
Aliko Dangote. A man whose name falls on deaf ears to many outside of Africa, is considered to be a central element to Nigeria's development. His success, and the success of others like him, is placing the fate of their respective country's development back into the hands of the local populace. Dangote's story is not one of rags to riches. He comes from a family of means. It is his strategy however that sets him apart from his competitors an counterparts who have fallen victim to a status quo.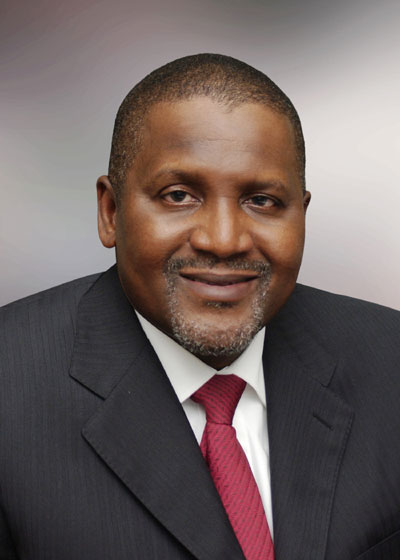 Aliko Dangote
At an early age Dangote's uncle provided him with a loan of 500,000 Naira (1,350 USD). This simple loan laid the ground work for the Dangote empire. Through political connection and continuous subsidies, the Dangote Group was born has grown further and further, overshadowing all regional competition. Dangote is now Africa's richest man at an estimated net worth of 13.2 billion USD. His group works in the manufacturing and distrubution of cement, sugar, and flour and has made strides in the energy sector as well. While Dangote is largely known for his work in petroleum production, he has made advances in natural gas and even solar energy with his work in the Dangote-Black Rhino Solar Plant.
Dangote Refinery Construction Site
For years Shell has been one of Nigeria's primary petroleum operators, but slowly but surely the scales of power have been shifting. In 2016 Dangote Industries Limited (DIL) acquired the Twister B.V., a company headquartered in the Netherlands which is credited to deliver "reliable, high-yield and robust solutions in natural gas processing and separation to the upstream and midstream oil and gas sectors". Prior to its acquisition this company was owned by Shell Technology Ventures Fund 1. Twister has patented technology, making plants cheaper to build and operate compared to its counterparts. The company is also said deliver better performance levels, and has customers in Nigeria, Malaysia, and South America. In addition to Nigeria, the Dangote group has expanded operations in other African countries and with the acquisition of Twister B.V, an African company has taken control of a Dutch company for the first time in history and is making its way to do business with more developing countries in other continents.
Apart from the DIL's work in gas output, Dangote has invested 8 billion USD to create a Nigerian oil refinery that will produce up to 650,000 barrels a day, which will be more than double its current output. This project is said to be complete by the end of 2018. Such an increase in domestic capacity has incentivized both foreign and domestic investment and exposed a flawed system in which the status quo has profited from Africa's poor infrastructure and built a industry around fuel importation rather than fuel production. In an article by the Telegraph, Dangote is quoted saying this aspect of the status quo has deeply concerned him, and that he expects interference from those with finances tied to the status quo. His concerns are legitimate for political leaders have been killed for trying to change the means of business in the past, but if there is anyone to change the status quo, it is the one whose name is on every aspect of his country's development in deep governmental ties. Construction on the oil refinery will be set in Lagos. Land in the area is also for sale to Nigerians and non Nigerians through groups such as EUC Homes. Lots and half lots range from 1-3 million Naira or between 3,000 to 5,000 USD. The land is soon to appreciate as the area is to see the development of an oil refinery as well as other apartment complexes and homes that will house a new generation of wealth.
Perhaps this shows a way in which trickle down economics has worked. In the Reagan era United States, tax breaks were given to the wealthy with the belief that this would incentivize them to invest more in the community. This belief was however proven wrong as the wealthy sat on their money, ultimately increasing the income gap between the wealthiest and poorest Americans. Perhaps trickle down economics works only in developing countries. As men like Dangote are given subsidies and preferential treatment to expand their businesses, they are laying the foundation for a stronger nation that relies less on foreign companies, and enhances infrastructure leading to further investment. Similar phenomena happened in the west during the industrial revolution. During the process of industrialization the biggest source of business is construction and the production of raw material and resources to fuel growth.
Dangote's strategy has been expanding in areas that are crucial for a developing country. One of the first products that the Dangote group sought to provide was cement. Not only has Dangote sought to provide cement, he has also established the AG-Dangote Construction group which has since set forth a campaign of building streets of concrete throughout Nigeria. The AG in AG-Dangote Constuction company also stands for Andrade Gutierrez, a Brazilian construction company also making strides in developing Brazil's infrastructure. This union shows how two rising economies can arguably work better than a developed country and a developing country which can quickly turn paternalistic and unilateral.
When his infrastructural zeal has been expended, Dangote has made plans to buy the Premier League football team Arsenal. Although it would hold no significance in African development, it stands as a symbol of change. Neither an African nor a Black person in general has ever owned a team in the Premier League. If Dangote is able to make such a purchase it will create an easy illustration of Africa's transition and show Nigeria in a new light.
So while many developing countries in the world have suffered at the hands of political strongmen, perhaps it is the destiny of a developing nation to instead have strongmen in the business sector who instead of lustfully pursuing political power, pursue financial power and  are left to their vice in the realm of capitalistic competition.