Innoson: Africa's first car and its impact on African development
The Success of Africa has and is still seen with skepticism by many in the world. Old and recent events in the media have frequently portrayed a continent marred in disunity and strife. In actuality, the continent is a diamond in the rough that is slowly but surely shedding its abrasive exterior. A Nigerian entrepreneur with no history in engineering launched Nigeria's initiative to produce the continent's first car. With a population of roughly 170 million people, and an increasing labor productivity Nigeria made itself a regional power in the continent and an attractive market to many foreign companies. Germany, Japan, the United States, the UK, France, and South Korea have installed manufacturing companies in Nigeria, and while they provide employment and GNP growth, they do little for helping Nigeria in the long run. With other problems such as a low percentage of foreign direct investment and power outages, the prospects of an indigenous Nigerian car have seemed unlikely, especially when taking into account the uphill battle to be fought against foreign corporate giants and personal bias of consumers when purchasing cars. The phenomenon of Innoson will reflect the potential of African capitalism.
There is an entrepreneurial culture in Nigeria as well as Africa as a whole. This sense of entrepreneurship could even be bridged to a further extent to the African diaspora in which many hold the belief that their respective governments and the status quo of the world around them does not cater to their concerns due to a myriad of factors, corruption, racism, etc. So instead, capitalism provides a means for providing for oneself and for ones community on more or less their own terms. In Africa there are many areas that face government neglect and thereby become opportunities for entrepreneurial innovation for many in the continent. These opportunities are also open for the taking as more non Africans are immigrating to the continent to find their fortune.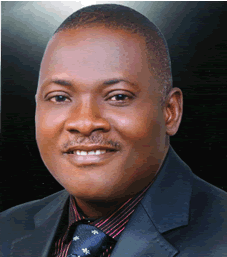 Innocent Chukumwa, founder of IVM motors
Innocent Chukwuma who is CEO of a conglomeration of many companies in Nigeria, began his career selling motorcycle parts in 1981 and gradually expanded to manufacturing motorcycles and plastics to eventually creating Nigeria's first automotive company, Innoson Vehicle Manufacturing (IVM). With a huge population and wealth in natural resources, Innoson can enjoy an advantage in production. Although the engines themselves are imported, 60 percent of the vehicles' parts are produced locally which not only makes assemblies and repairs faster, but it also makes the vehicle cheaper for Nigerians, and helps the Nigerian domestic market. Currently Innoson is Africa's only automobile manufacturer, and in a continent containing 53 countries this could lead to regional dominance for Nigeria if it were to sell and expand Innoson in other African countries. It would be a mutually beneficial initiative as other African counties would have a cheaper alternative to more expensive Asian, European, or American cars. IVM also claims that their vehicles will be built to cater to the conditions of the west African road thus providing a more efficient car to the local market. The increase in inter-African business would create more employment opportunities and increase innovation as ambitious Nigerians  and foreign investors see Innoson as the promise for a better tomorrow in a country that currently faces an unemployment rate of roughly 25%. Chukwuma addresses the issue of youth unemployment in a special report by Vanguard.
"Young people should never waste their youth. I never wasted my own. There is work everywhere in Nigeria. The only problem is that most young people don't like to do 'dirty work' yet it is dirty work that gives money. Most of the graduates are not employable. Majority of them have the wrong mentality. They want to work in banks, oil companies or to become politicians and get rich overnight. There is a lot of job opportunities in farming, but how many young people want to become farmers? The best way to become rich is to go and become a farmer. All quick money politicians are making will not last. Young people must use their time as youth to work and build their future."
Chukwuma's comments highlight the underlying problems of the Nigerian economy; corruption and agricultural development. Agriculture is Nigeria's most important sector, engaging 70% of the workforce and producing about 80% of total food. However farming in Nigeria is small, scattered and based on subsistence thereby not utilizing the resources and land efficiently. Both agriculture and corruption are currently under reform by Nigeria's first female finance minister Ngozi Okonjo-Iweala who shows promises of accomplishing feats in Nigeria similar to what Dilma Rousseff did for combating corruption in Brazil thereby opening the country to more efficient uses of funds.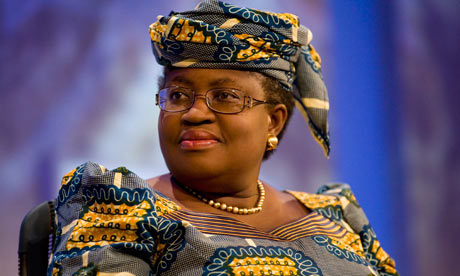 Ngozi Okonjo-Iweala
Currently Africa faces the problem of intellectual and monetary hemorrhaging as many intellectuals move elsewhere and foreign companies dominate the market. So with a cheaper and more convenient product available, it may be possible that many of the worlds largest automobile industries who operate in Africa will see a decrease in profits, especially if IVM reaches the point of creating its own engines. Having a local automobile will therefore boost Nigeria's net exports by having a cheaper local automobile to substitute for more expensive foreign models as well as exporting a product to other countries in Africa. Although IVM is still getting its footing, it has caught the attention of Nigeria's neighbors in ECOWAS (Economic Community of West Africa), in particular Ghana who had sent a delegation led by Madam Dzifa Aku Attivor to entertain the idea of establishing an IVM company in Ghana.
While Africa has a wide variety of countries and cultures, many of these countries experience similar problems. Construction has long been an issue within Africa. Obtaining the equipment and the funding has been a challenge for some governments, including Nigeria. However IVM intends to produce automotive lines of semi-trucks, SUVs, buses, and construction machinery. However currently Chinese companies reign supreme in the market of construction in Africa. This control has come from prices set far below European and African construction companies. In the Africa Daily He Jiezhou, project manager of China Railway 5th Bureau had commented on business competition in the construction industry by saying the average expected profit of many European or African companies which is 20-35% is too high. With an expected profit of 5% for Chinese companies, the cost of building a road with a European company is equivalent to building about three with a Chinese company. In addition, many of these companies are privately owned, hiring local labor solely for cheaper costs, and in some cases Chinese construction has even been in poor condition. However, Chinese entrepreneurs seem to be slowly monopolizing the African construction market. In fact, Innoson Motors is closely tied to Chinese companies as well. In his early beginnings, the motorcycle parts Chukumwa had sold and assembled were from Chinese motorcycles. His early intentions were to learn the technological means of China's success.
Only time will tell  IVM's future, but so far it shows promise. Nigeria can now add an automobile to its list of valuable exports, and even help pave the way for its neighbors in ECOWAS to step into the automotive industry. With efforts to combat corruption and create agricultural reform, Nigeria will soon find itself at pace with the rapidly growing BRIC countries such as Brazil or India. IMV in essence is simply a car company, but it is also a rallying cry behind African development.